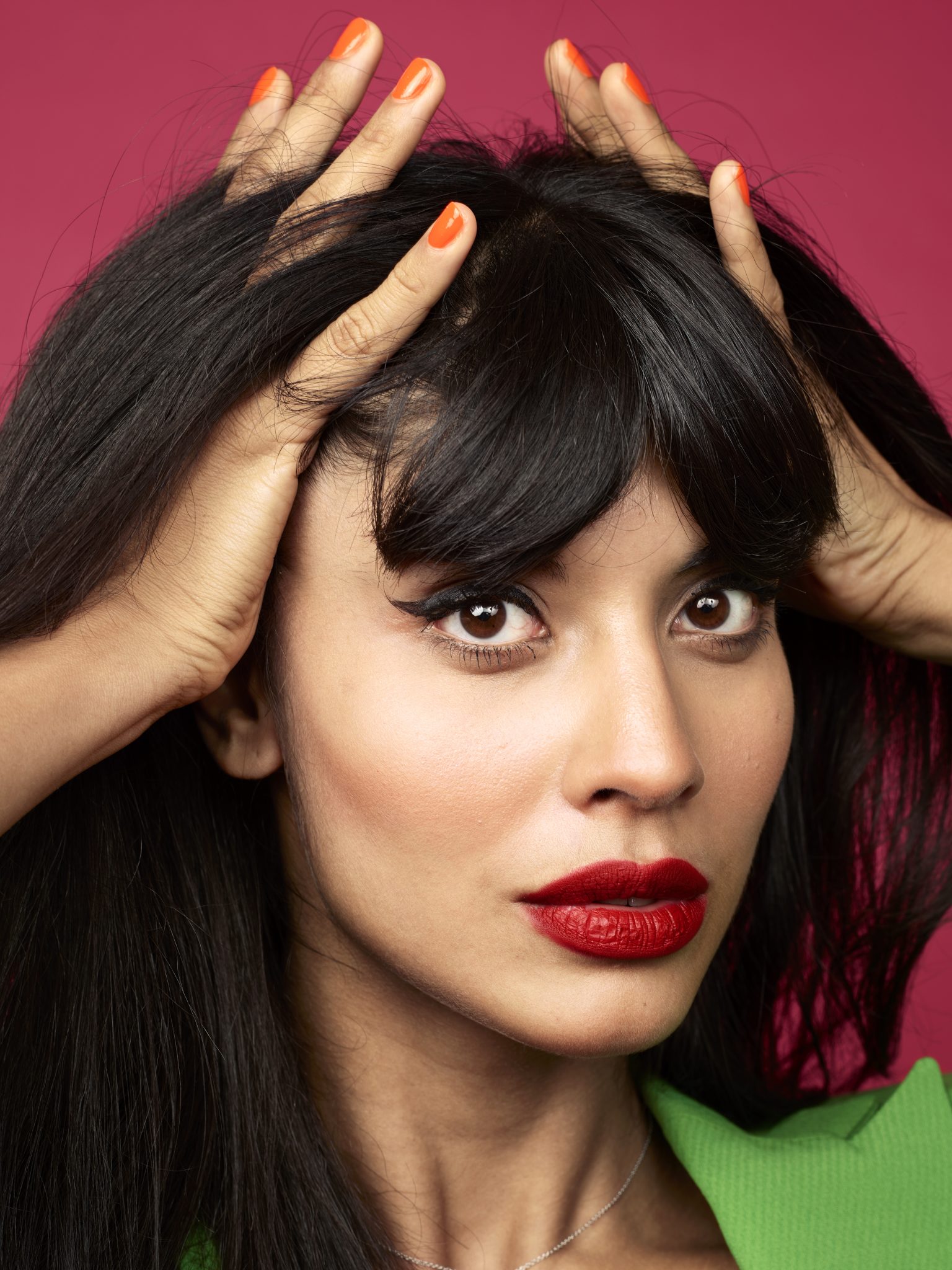 "Don't feel bad for hiding it for as long as you need, and move at your own pace. But feel no shame about getting it off your chest and know you aren't alone."

Jameela Jamil
Happy PRIDE month and welcome to June's Gaydar Feature of the Month! We are featuring yet another talented mind and soul who is a part of the LGBTQIA+ community, our bold and beautiful queen – Jameela Jamil!
If you remember the TV series about a woman who got hulk-like powers after getting a blood transfusion, or simply known as She-Hulk, then you'll definitely remember Titania, the badass beauty that made viewers unable to decide where to pin their interest in. Well, today we'll be talking about her, or rather, the actress who played her, Jameela Jamil.
Jamil was born February 25th, and is a well known presenter and actress. Her career was launched when she got her first job in media being the main host on T4, the UK's leading youth entertainment show. On T4, she interviewed famous actors and musicians. She also became a journalist for Cosmopolitan Magazine and the Huffington Post. After 2 years she became the face of Maybelline and Nails Inc.
In 2012, she released her own clothing line after much success in the fashion industry. She has photoshoots for both British and American Vogue, Glamour Magazine, Cosmopolitan Magazine and Japanese teen vogue.
She is famous for her role as Titania in She-Hulk movie, but that wasn't the only thing she was famous for, she was also in Jurassic World: Camp Cretaceous with her role as Roxie. Other than action movies, she also starred in a few rom-coms like Still Laugh-In. And was even a part of The Good Place.
But that's not all, this bisexual actress has also starred in a few children's movies and series, in Ducktales, she voiced Gandra Dee, the rebel scientist. Gandra was featured in season 2 episode 15 of Ducktales.
Jameela also voiced Auntie Pushpa from Disney's Mira, Royal Detective, Auntie Pushpa is a recurring character in that series whose bag got stolen and Mira helped in clearing the case.
About her sexuality, today she proudly states that she is bisexual, even considering pansexuality, as well. Speaking to The Times, The Good Place actor addressed the backlash she faced when she was appointed a judge on a forthcoming TV show about drag ball culture titled Legendary, which prompted her to come out as bisexual.
She was quoted to say, "People are still stuck in the linear and don't understand the spectrum in a sexuality."
Jamil was accused of "appropriating ballroom culture" and taking a judging spot from someone more closely associated with the world that Legendary is looking to honor and celebrate.
After mounting pressure, Jamil posted a statement on social media stating that she was in fact "queer" and hadn't come out publicly earlier due to pressures from her background and to avoid "the pain of being accused of performative bandwagon jumping".
At the time, she said she didn't want to talk about the announcement with the press, but now, in a new interview with The Times, she's opened up about her sexuality – aligning it more with bisexuality or possibly pansexuality than just the umbrella term "queer".
"I guess I'm bisexual, but also quite fancy everyone. I don't know if that means that I'm pansexual. But I don't just fancy cis straight men; I fancy everyone."
She then further speaks on her Instagram, "Don't feel bad for hiding it for as long as you need, and move at your own pace. But feel no shame about getting it off your chest and know you aren't alone. There is a huge community of people who understand you, respect you and stand with you."
So, what can we learn from Jameela? Well, don't need to feel scared or ashamed for being queer! Even if you are still a closet-queer, everyone deserves the freedom to be comfortable in your own skin, accepting yourself is what's most important.
Remember, you are strong like Titania, intelligent like Gandra Dee, and most importantly, uniquely you.
Thank you for joining us on this month's Gaydar Feature. Who do you think we should feature next month?