PERCEPTIONS | HISTORY | MEDIA
INDONESIAN PERCEPTIONS ABOUT THE LGBTQ+ COMMUNITY
In Indonesia, LGBTQ+ individuals and activists have long faced fierce opposition from politicians, government officials and state offices, who publicly called for the criminalization and rehabilitation of homosexuals. From the caning of gay men in Aceh due to Shariah Law, the increase in raids on nightlife spots, hotels, spas and even private residences to the consideration of criminalizing consensual same-sex practices through national legislation, there has been an incessant crackdown against the Indonesian LGBTQ+ community.
A stronger push for greater censorship towards LGBTQ+ related information has made discussion and advocacy on LGBTQ+ matters a taboo topic in Indonesia, fueling further misconceptions towards the community. Due to this harsh treatment against the LGBTQ+ community, many LGBTQ+ Indonesians have been forced to flee their homeland or continue to lead closeted lives to escape persecution.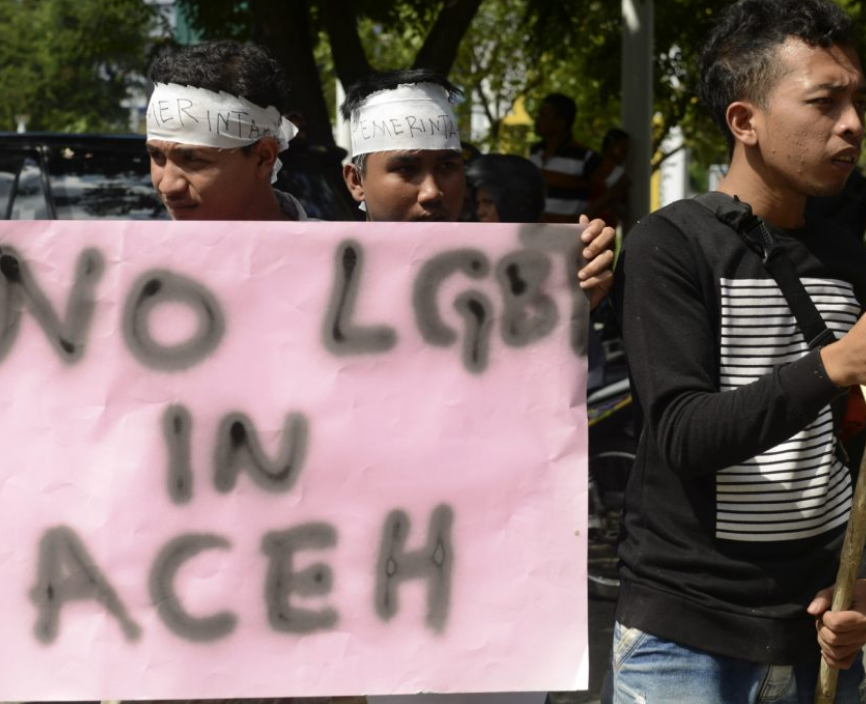 Anti-LGBT protest in Aceh, Indonesia
INDONESIAN GENDER HISTORY
Indonesia has a long history of gender and sexual diversity. The fluidity of genders has been recognized by the Bugis people of South Sulawesi since the pre-Islamic era – man (oroane), woman (makkunrai), anatomically males who adhere to expectations of females (calabai), anatomically females who take on male roles (calalai) and priests or mediums thought to have a combination of all genders (bissu).
Homosexual relations have been observed in certain cultures in Indonesia, such as "ritualized homosexuality" practiced by some tribes in the southern Papua province as a rite of passage to adulthood and the warok (respected older male dancers who play the dominant main character in a traditional dance called Reog Ponogoro)– gemblakan (younger male dancers) relationships of the East Javanese people. Effeminate lengger lanang male dancers and their performance of female roles are also somewhat reminiscent of transsexuals and cross-dressing behavior. These examples show how, contrary to popular belief, LGBTQ+ individuals are not products of Western influence and are steeped in Indonesia's traditional culture.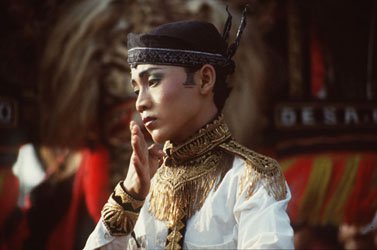 Gemblakan – a younger male dancer who play the submissive role to the warok – the dominant male figure according to Indonesian traditions  – Source
LGBTQ+ REPRESENTATION IN INDONESIAN MEDIA
MEMORIES OF MY BODY (2018/2019)
Memories of My Body is a 2018 /2019 Indonesian drama film directed by Garin Nugroho. It was selected as the Indonesian entry for the Best International Feature Film at the 92nd Academy Awards, but it was not nominated
Lovely Man is a 2011 Indonesian film written and directed by Teddy Soeriaatmadja. The film had its world premiere at the 2011 Busan International Film Festival to positive reviews on the segment "A Window on Asian Cinema". Donny Damara plays the starring role as Syaiful/Ipuy, a transgender woman in Jakarta. Actress Raihaanun, who is also Soeriaatmadja's wife, plays the female leading role as Cahaya, Syaiful's long-lost 19-year-old daughter who comes to the city to look for him only to find out that her father is a transgender woman. This is their second film together after 2007 remake of drama Badai Pasti Berlalu.
The film generated controversy in its native Indonesia due to rejections from certain religious group but saw overwhelming receptions abroad; screening for various international film festivals.
Coklat Stroberi (Chocolate Strawberry) is a 2007 Indonesian teen drama comedy directed by Ardy Octaviand and written by Upi Avianto.
The film tells the story of two young female university students, Key and Citra, who share a house in a plush Jakarta suburb. Due to difficulties in paying their rent, their landlady forces two new male tenants on them, Nesta and Aldi. Key and Citra, despite their beauty, are for some unexplained reason very unlucky in love and fear that they will end up as spinsters. They immediately fall for their handsome housemates. Unbeknown to them, the two young men are actually lovers, though various visual clues ensure that the audience is let in on the secret. While Nesta has a very masculine and straight-acting look, Aldi is feminine and moody. Nesta explains to Aldi – and to the audience – the theory of chocolate strawberry. Basically, strawberry equates to feminine and gay, and so in order not to be found out it is important to act chocolate – that is, to act masculine and straight. As well as more innocent ways of showing that one is straight, such as doing weight training, spending hours on the PlayStation, and not cooking, Nesta decides it would be a good ploy to start flirting with and eventually dating Key. Aldi becomes increasingly jealous as he sees his love of the last two years devoting far too much attention to Key.
Arisan! (also known as The Gathering) is a 2003 Indonesian film that has drawn more than 100,000 viewers. It is the first Indonesian film with a gay theme, and the first Indonesian film to use high-definition color enhancement. It uses a mixture of English, standard Indonesian and Jakartan slang. Arisan! became the second film in Indonesian film history to win all six major awards in Festival Film Indonesia (FFI), including Best Picture, Best Director, Best Actor, Best Actress, Best Supporting Actor, and Best Supporting Actress, after Ibunda in 1986. Arisan! was also the first film in Indonesian film history to include two men kissing, by the characters Sakti and Nino (Tora Sudiro and Surya Saputra). The two won Best Actor and Best Supporting Actor at the Festival Film Indonesia (FFI).
A television series as a continuation of the movie with the same title has been airing on AnTV.
As of 2019/2020 the movie is streaming on Netflix (USA) under its English title The Gathering.