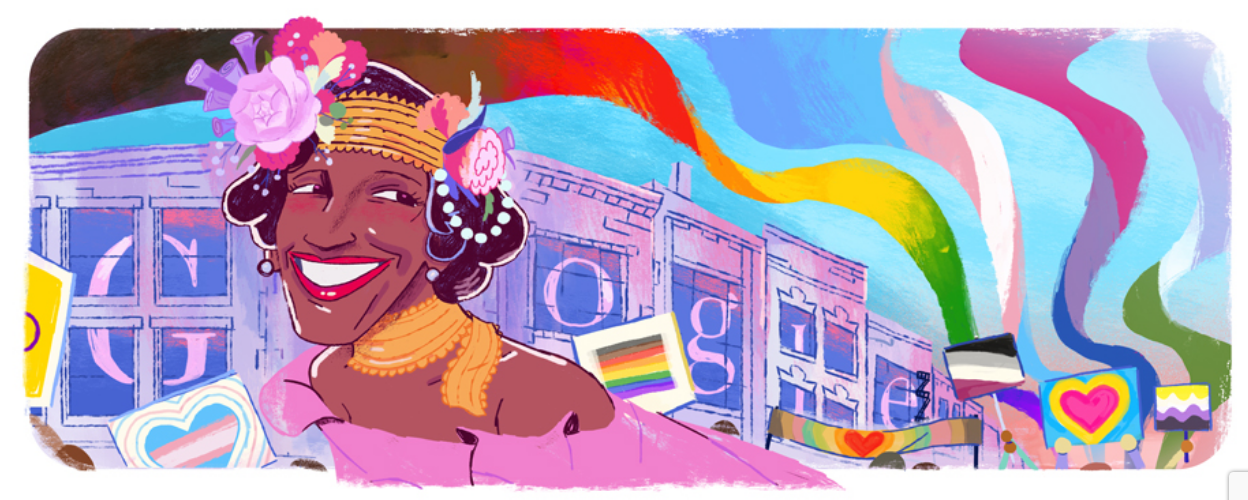 The Always Smiling Johnson
Marsha P. Johnson was one of the most prominent figures in the gay rights movement in New York City in the 1960s and 1970s. The always-smiling Johnson, homeless with HIV, was a major advocate for LGBTQ youth, AIDS, gay and transgender rights.
Marsha P. Johnson was born on August 24, 1945 in Elizabeth, New Jersey. Johnson was a man from birth and was raised in a working-class African-American household. She was the fifth of seven children born to Malcolm Michaels Sr. and Alberta Claiborne. Johnson's father worked on the General Motors assembly line in Linden, New Jersey, and her mother was a housekeeper. She said that Johnson liked to wear women's clothing, and she wore dresses from the age of five. These clothes showed her confidence, but she felt pressured to quit after being bullied by other children and sexually assaulted by a 13-year-old boy. Shortly after graduating from Thomas A. Edison High School, Johnson moved to New York City with her bag of clothes and her $15.
Marsha "Pay It No Mind" Johnson
When she arrived in New York, she returned to dressing in women's clothing. Johnson changed her full name to Marsha P. Johnson. The "P" stands for "Pay It No Mind," a phrase that has since become their motto. Johnson described herself as a gay, transvestite, drag queen and used her/his pronouns. The term "transgender" did not come into common use until after her death. According to her nephew, Johnson always had a close but strained relationship with her family in New Jersey.
Nobody from Nowhereville to Queen of Drag
Living on the edge wasn't easy. Back then, the New York State still persecuted homosexuals and frequently criminalized their activities and presence. The rights of LGBTQ people were restricted and sometimes completely ignored. After struggling to find work, Johnson turned to sex work. She was often abused by clients and arrested a few times by the police. During this time, she did not have a fixed home and hopped around homes. She also slept in her friends' hotels, restaurants and movie theaters. She found her job as a waitress and appeared in drag shows. In a 1992 interview, Johnson said, "I was a nobody from Nowhereville until I became her Queen of Drag."
Not long after she moved to New York, Johnson, who was 17 at the time, met 11-year-old Sylvia Rivera. Rivera is a transgender Puerto Rican, and the two quickly became friends. Rivera later said of Johnson, "She was like a mother to me." She encouraged Rivera to love herself and her identity, just as Johnson did for herself. Johnson loved wearing colorful, fun clothes made from thrift store finds and discarded items. She was also often seen wearing her corolla.
The Stonewall Riots
When Marsha P. Johnson and Sylvia Rivera were arrested for climbing the stairs of a Greenwich Village police station in 1966, they were just trying to get their friend Stella Bell out of jail. They never expected that the police would initially refuse to release Bell, and that they would then be interrogated, beaten, and charged with assaulting an officer.
The two activists spent several hours in prison before being released on bail—and they were not alone. That night, around 50 other trans women and drag queens were also arrested in what became known as the "Stonewall Riots." What happened next was truly remarkable: Marsha P. Johnson and Sylvia Rivera attended a meeting at the Stonewall Inn where they discussed whether or not to start an organization in response to these events. Their answer was yes—and soon after founding Street Transvestite Action Revolutionaries (STAR), Johnson became an iconic figure within the LGBTQ community.
Johnson's work in STAR was groundbreaking because it allowed trans people (who were largely ignored by other organizations) to speak out about issues like discrimination and harassment. She also organized one of New York City's first PRIDE Parades—which took place in 1970 at Sheridan Square Park—and founded two more organizations: The Gay Liberation Front and ACT UP.
Justice for Marsha
Despite Johnson's bubbly personality and ever-present smile, she experienced difficulties although she never let her personal setbacks stop her. During the 1970s, Johnson experienced a series of mental breakdowns and spent time in and out of mental hospitals. In 1990, Johnson said that people with HIV should not be feared. On July 6, 1992, Johnson's body was found in the Hudson River. She was 46 years old. She was initially thought to have committed suicide, but many of her friends questioned this conclusion and suspected the police of wrongdoing.
According to the New York Anti-Violence Project, 1992 was the worst year for recorded anti-LGBTQ violence. Police subsequently reclassified the incident as an unexplained drowning, but the LGBTQ community was outraged that police refused to investigate further and many news outlets did not report her death. Hundreds of people gathered at the church for her funeral. It was so crowded that people were standing in the street. In 2012, New York City Police reopened the case in Johnson's death.
Anti Violence Project activist Victoria Cruz investigates the mysterious 1992 death of Marsha P. Johnson in the form of a documentary using archival interviews with Johnson, and new interviews with Johnson's family, friends and fellow activists. The film called 'The Death and Life of Marsha P. Johnson' was directed by David France. The film premiered in the documentary competition section at the Tribeca Film Festival on April 21, 2017. In June 2017, Netflix acquired worldwide rights to the film. The film was released on the streaming service on October 6, 2017.